The Australian National Dictionary: A Dictionary of Australianisms on Historical Principles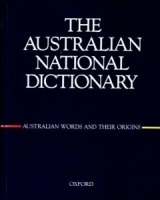 Abstract
W.S. Ramson. Oxford University Press, 1988. 814 pages. ISBN 0 19 554736 5.
The Australian National Dictionary is the first comprehensive, historically based record of the words which make up the Australian contribution to the English language. Every entry provides its own fascinating insight into Australia's rich and diverse linguistic heritage.
It is a dictionary of Australianisms - those words and meanings which have originated in Australia, which have greater currency here than elsewhere, or which have a special significance in Australian history. It records the historical development of Australian words and phrases from their earliest use to the present day, providing evidence of this history in some 60,000 dated and referenced quotations drawn from over 9,000 Australian sources.
The Australian National Dictionary took ten years to compile. It is the product of the fullest and most detailed research ever undertaken into the history of the Australian English vocabulary. Staff at the Centre are currently working on a second edition of the Australian National Dictionary.
The Australian National Dictionary was released online in 2008 as part of Oxford University Press's centenary celebration of publishing in Australia.
Click here to access the online version