2017 Swiss Prize winners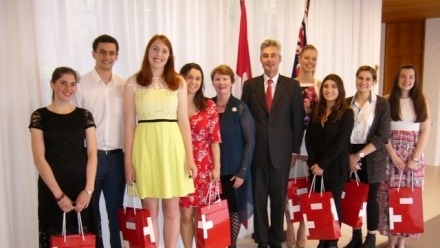 Thursday 16 November 2017
Nine students from the ANU School of Literature, Languages and Linguistics have been recognised for outstanding essays about Switzerland written in the three official languages of Switzerland.
The annual Swiss Prize is an essay competition for language students organised by the Swiss Embassy in Australia in collaboration with the Australian National University's College of Arts and Social Sciences. It offers language students of the ANU the opportunity to demonstrate their ability to discuss a complex topic in a foreign language (in French, German or Italian). All contributions are evaluated by a jury composed of academics and representatives of the Embassy of Switzerland in Canberra and the Consulate General of Switzerland in Sydney.
The best contributions in each language were awarded the Swiss Prize 2017 at a reception hosted by the Swiss Ambassador, His Excellency Mr Pedro Zwahlen, in the presence of the ANU Deputy-Vice Chancellor, Professor Margaret Harding.
The students' essays in French, German and Italian focused on the 2017 topic: Switzerland – between Tradition and Innovation.
Traditions are an integral part of everyday life in Switzerland. Local customs have always been maintained, nurtured and developed. Because of this, the country has a wealth of cultural activities and living traditions, connecting to, contrasting with, and complementing modern and innovative urban lifestyles. At the same time, the tight university-industry connection produces the most advanced projects of applied sciences. The favorable business and research environment makes the country a global leader in innovation.
Award winners
French
1st Prize - Sarah Hodge - Quels sont les traditions de la danse folklorique et le costume traditionnel en Suisse. En outre, quel rôle jouent ces traditions dans la société Suisse contemporaine? 
2nd Prize - Jeremy Bou Sleiman – L'équilibrage de la tradition et l'innovation à l'égard du duo éducation et économie sont-elles les facteurs primordiaux permettant à la Suisse d'établir un modèle d'innovation couronné de succès? 
3rd Prize - Alasdair McCall – Depuis 1515, la Suisse est restée neutre dans le système international. En joignant l'ONU en 2002, comment est-ce que les traditions de sa neutralité ont-elles été affectées? 
German
1st Prize -Ingrid Baader-Irwin - Eine neue Ära des Humanitarismus
2nd Prize - Katherina Argue - Innovative Politik durch traditionelle politische Strukturen
3rd Prize - Kira Dowling - Zur Entwicklung der Rolle der englischen Sprache in der Schweiz
Italian
1st Prize - Federica Triolo - L'arte e l'architettura unica della Svizzera
2nd Prize - Amy Tepes - LA CAMPAGNA 'TOUCH' SVIZZERA
3rd Prize - Elizabeth Plowman - Innovazione combinata con la tradizione in Svizzera nelle banche