The Body at Work: Gender, Labour, Migration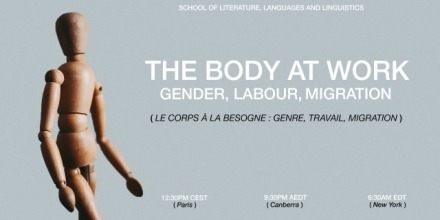 Le corps à la besogne: Genre, travail, migration
**All seminars will take place at 12:30pm CEST (Paris), 9:30pm AEDT (Canberra), 6:30am EDT (New York) To register, please contact Leslie Barnes (leslie.barnes@anu.edu.au)**
What constitutes work and how is it valued? Who relocates for work – under what conditions and with what results? What are the physical and psychic effects of certain kinds of labor? Reflecting deep concerns with the reach of capital, in both its historical and contemporary forms, the aim of this seminar series is to pose questions about how bodies are identified, exploited, and displaced across different regimes of labour. From sex work to construction, from agricultural day labour to domestic services, such regimes often depend on a mass of unseen workers. They also increasingly rely on the transfer of labour power from poorer (and often formerly colonized) countries to wealthier ones. The contributors in this series seek to make visible the invisible work sustaining the new global economy and to interrogate the relationship between the free flow of capital and the limited mobility of the working poor.
Upcoming events
9.30pm 3 Nov 2020
Professor Anna-Louise Milne is the Director of Graduate Studies at the University of London in Paris, where her work on contemporary migration draws on...
9.30pm 17 Nov 2020
In the post-war era, and following departmentalization in 1947, huge waves of migrants from Guadeloupe and Martinique arrived in metropolitan France to...
Past events
20 Oct 2020
Pour des motifs aussi bien pseudo-scientifiques que politiques, les femmes ont été particulièrement menacées par le régime nazi à partir de l'ouverture du camp...
6 Oct 2020
In this essay I explore the intersecting themes of gender, labour and migration in Rithy Panh's documentary film, La Terre des âmes errantes (2000), which...