The Australian National Dictionary Centre's 2019 Word of the Year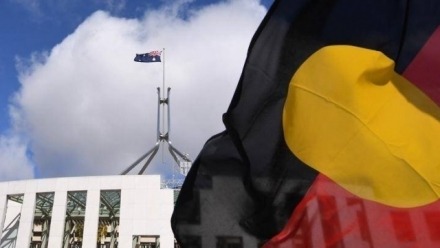 Each year, the Australian National Dictionary Centre looks for the word or expression that best sums up the year. Many events shaped the Australian political, cultural and social landscape this year, and the words on our shortlist reflect some of the events that had an impact through 2019. But we also look for a term that is lexically interesting and Australian.
The Australian National Dictionary Centre's Word of the Year for 2019 is:
voice 'a formal channel for Indigenous input into the making of laws and policies affecting Aboriginal and Torres Strait Islander people'
Voice increased greatly in usage this year, as the idea of an Indigenous voice became prominent in public discussion.
We find early evidence of voice in a 2015 speech by Noel Pearson, who spoke of the need for a First Nations 'voice to parliament and voice to government'. In 2017 the term 'voice to parliament' came to national attention following the Uluru Statement from the Heart. It called for a 'First Nations Voice' to be enshrined in the Australian constitution, sparking debate over the form it might take. However, the Turnbull government rejected the idea of constitutional change.
In October this year a different proposal emerged to reignite the debate. Minister for Indigenous Australians Ken Wyatt proposed a 'voice to government' to be created by legislation, with the form of the voice to be co-designed in consultation with the Indigenous community. He appointed a senior advisory body to oversee a 12-month process, so the voice is likely to remain a major talking point in 2020.
The Shortlist
quiet Australians: 'those Australians regarded as holding moderate opinions but who are not likely to express them publicly '
This term harks back to earlier political constructions like Menzies' forgotten people and Howard's battlers, and was first used by Prime Minister Scott Morrison in early 2019. When he won the election in May, he claimed it as a victory for the 'quiet Australians'. The quiet Australians (who are just 'getting on with it') are implicitly contrasted with a 'shouty' progressive elite. The term has increased in usage through 2019 and is being taken up in political commentary, with much debate about who the quiet Australians are and whether they lack a voice.
fish kill: 'the sudden death of a large number of fish in a single event'
We became familiar with this term when Australia experienced a mass fish kill in the Menindee Lakes area of the Darling River in January. It made national headlines; up to a million fish died. The immediate cause was oxygen-depleted water. Low water flow, extreme temperatures, and a toxic algal bloom contributed to the fish kill. Despite the scale of the disaster, the Menindee event was a small part of a much larger story about drought, water management and water security, and climate change.
influencer: 'a person who uses their profile on social media to promote products and services'
The social media influencer has increased in prominence in Australia over recent years, and we tracked a sharp rise in Australian usage of the word in 2019. An influencer may be an already established celebrity, or a person with a popular YouTube channel, Instagram account, or Facebook page. They promote products and services to their followers, specialising in areas such as travel, lifestyle, fitness, beauty, fashion, and food. The influencer represents the ongoing power of social media in our lives and, increasingly, in our economy. As traditional methods of marketing and sales change, the influencers have greater significance. However, we also continue to question their power.
climate emergency: 'the immediate threat posed by climate change and global warming'
A number of words relating to climate change gained much greater prominence in 2019, including climate crisis and climate emergency. This reflects the increased sense of urgency around the potential impacts of climate change and the need to use language that urges immediate action. The ACT and numerous local councils around Australia have passed climate emergency motions, and there has been a call for the federal government to do the same.