Better communication in nursing clinical handover at St Vincent's Hospitals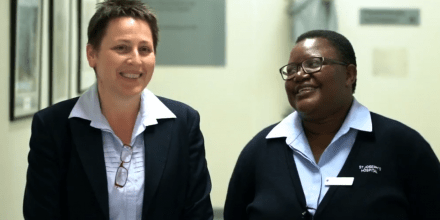 Clinical handover is a pivotal, high-risk communicative event in hospital practice. Studies investigating critical incidents, mortality, risk and patient harm in hospitals have highlighted ineffective communication as a major contributing factor. With over 52 million clinical handovers performed nationally each year, each represents an opportunity for miscommunication and a subsequent risk to patient safety.
Ward 7N pilot at St Vincent's Hospital Sydney
In 2018, Diana Slade and her team from the Australian National University (ANU) collaborated with St Vincent's Hospital Sydney to undertake a pilot clinical handover translational research and training project to improve nursing handover practice.
Comprehensive data was collected including interviews, observations of nursing handovers and video recordings of actual handovers. The data was then analysed, with findings used to inform the development of a targeted intervention. Based on analysis of this data, the ICH team made extensive recommendations to improve clinical handover on the ward to ward nursing staff as well as nurse managers and senior managers across the hospital.
Anna Thornton, Director of Nursing at St Vincent's Hospital Sydney, calls the project a "game-changer " with significant improvements to nursing handover practice, patient safety and quality of care. As a result of the project, there was a 52% reduction in inpatient falls, a 22% decrease in the number of newly acquired pressure injuries and a 21% reduction in the number of reported medication errors (over the 5-month post-intervention period compared to the average of the same months over the previous three years).
Phase 2: Expanding the project to three hospitals across the St Vincent's Health Network
Following the success of the pilot, the ICH team received funding from the Handbury Family Trust and St Vincent's Curran Foundation to roll out the project across several other wards in St Vincent's Hospital Sydney, St Joseph's Hospital and St Vincent's Hospital Melbourne.
In February 2020, the ICH team gathered data in the Rehabilitation Ward (Rehab) and Palliative Care Unit (PCU) at St Joseph's Hospital. This included ethnographic observations, interviews with staff and patients and recordings of multidisciplinary team huddles and nursing clinical handovers. In line with the pilot of the project, the team made a suite of context-specific recommendations and provided tailored training.