Better communication in nursing clinical handover at St Vincent's Hospitals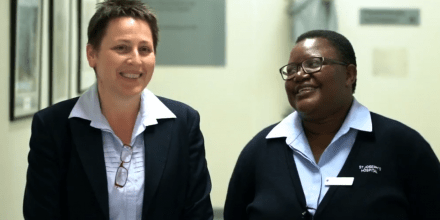 Clinical handover is an integral part of ensuring patient safety and continuity of care. With an estimated 52 million clinical handovers taking place in Australian hospitals each year, it's crucial that clinicians have the communication skills to do them well. Each handover is a chance for failures in communication and the potential for risks to patient safety—or conversely, an opportunity to achieve the good patient outcomes and satisfaction that go hand in hand with effective communication and patient centred care.
Professor Diana Slade is passionate about translational research that helps clinicians communicate more effectively in handover. Diana led one of the world's most comprehensive studies on clinical handover in hospitals, and based on this research co-developed professional development modules to help nurses improve their clinical handover practice.  
Phase 1: Ward 7N pilot at St Vincent's Hospital Sydney 
In 2018, Diana and researchers at the ANU ICH teamed up with St Vincent's Hospital Sydney to improve nursing handover practice on Ward 7N and support nurses to conduct shift-to-shift handovers at the patient's bedside, the hospital's new mandated policy.
From May to July 2018, the research team conducted interviews with staff and patients, and observed and recorded nursing clinical handovers on the ward.
Based on analysis of this data, the ICH team made extensive recommendations to improve clinical handover on the ward, including recommendations on group handover practice, handover tools, training and cultural change.
In November 2018, the ICH team delivered training on communicating more effectively in nursing bedside handover to 43 staff from nursing and management.
Anna Thornton, Director of Nursing at St Vincent's Hospital Sydney, calls the project a "game-changer" with significant improvements to nursing handover practice, patient safety and quality of care. As a result of the project, there was a 52% reduction in inpatient falls, a 22% decrease in the number of newly acquired pressure injuries and a 21% reduction in the number of reported medication errors (over the 5-month post-intervention period compared to the average of the same months over the previous three years). The ICH has secured $50,000 in grant funding from the Discovery Translational Fund to employ a health economist to quantify this impact.
Phase 2: Expanding the project to three hospitals across the St Vincent's Health Network
Following the success of the pilot, the ICH team received $AUD 500,000 of funding to roll out the project across several other wards in St Vincent's Hospital Sydney, St Joseph's Hospital and St Vincent's Hospital Melbourne.
In February 2020, the ICH team gathered data in the Rehabilitation Ward (Rehab) and Palliative Care Unit (PCU) at St Joseph's Hospital. This included ethnographic observations, interviews with staff and patients and recordings of multidisciplinary team huddles and nursing clinical handovers.
Based on analysis of this data, we made a suite of recommendations to improve handover events, handover communication protocols, written documentation, training, cultural change and policy.
In June 2020, Diana and Bernadette delivered training in communication in nursing clinical handover tailored to the needs of nursing staff from Rehab and PCU.
We look forward to working with St Joseph's Hospital to implement the recommendations and assess the impact of the project.
These projects are being generously funded by the St Vincent's Curran Foundation and the Handbury Family Trust, with support by St Vincent's Hospital Sydney, St Vincent's Hospital Melbourne and the ANU.
Due to the COVID-19 pandemic, further data collection at St Vincent's Hospital Melbourne and St Vincent's Hospital Sydney is on hold temporarily, expecting to be continued in late 2020.