Centre for Classical Studies Head to DC to Further Research into Mapping Greek Myths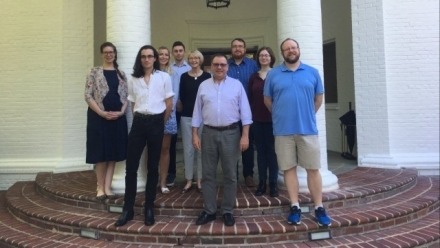 Students and staff from the ANU Centre for Classical Studies recently spent a week in Washington, DC to further research into a project that will digitally map stories in Greek Mythology.
The trip was conducted by Dr Greta Hawes, Senior Lecturer in Classics and Ancient History, along with Emeritus Professor ,Elizabeth Minchin, whom were able to bring 3 ANU along Students with them - a great opportunity to engage in a research project and see the inside workings of a research institution.

The week was spent collaborating with colleagues from both the University of New Hampshire and Trinity Collage, Melbourne to run a workshop entitled 'Digital initiatives in mapping Greek narrative' that was generously hosted by the Harvard Centre for Hellenic Studies. The group worked together to plan the next phases of MANTO (Map of Ancient Narratives, Territories, and Objects) and discuss possible points of collaboration with researchers working on other digital projects around the world.
The trip comes after the initial launch of the project back in April of this year, with plans to again run an additional internship next winter.